Long-term care worker among 2 new COVID-19 cases in Campbellton region linked to doct…
A long-term care worker is among two new cases of COVID-19 in northern New Brunswick linked to a family doctor who contracted the coronavirus outside the province and didn't self-isolate when he returned.
That brings the cluster of active COVID-19 cases in the Campbellton region to eight — three of them health-care workers, Chief Medical Officer of Health Dr. Jennifer Russell announced on Friday.
She said she didn't have any information about which facility the latest confirmed worker, who is in their 30s, works at or in what capacity.
But it is a caregiver at the Manoir de la Vallée in the neighbouring village of Atholville, confirmed Guy Tremblay, president and general director of Groupe Lokia, which owns the special care home for seniors.
About 100 people, including 57 residents, could have been exposed before the night worker was diagnosed on Thursday, Tremblay said.
Rapid testing at the facility is underway and expected to be completed later Friday, Russell told reporters during a news conference in Fredericton.
All residents have also been isolated, she said.
The other new case is someone in their 60s.
Contact tracing shows people living outside the Campbellton region are in the circle of transmission, Russell said.
So the virus "could easily spread to other regions," she said, urging people across the province to continue to be vigilant.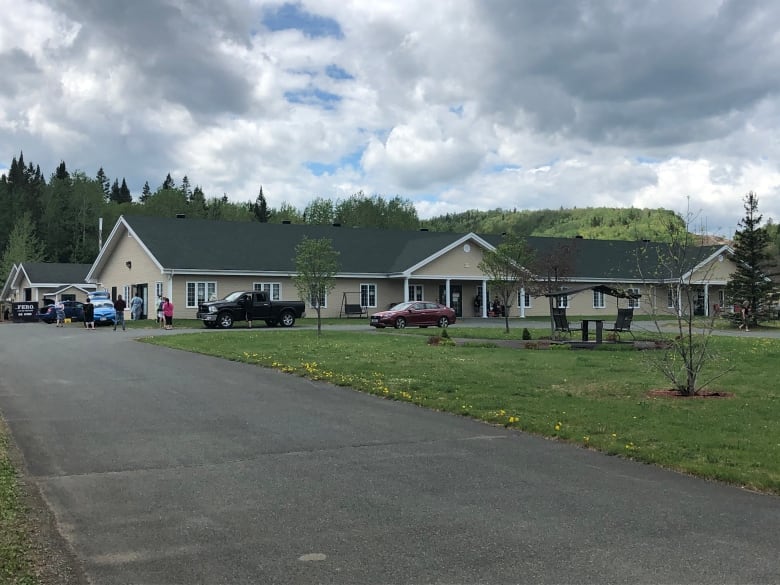 The doctor linked to the cases and who may have exposed at least 150 other people to the coronavirus has been suspended, the president and CEO of the Vitalité Health Network has confirmed.
The doctor, who is in his 50s, caught the virus when he recently travelled to Quebec. He then returned to work at the Campbellton Regional Hospital without self-isolating for the mandatory 14 days.
Two of the eight people in the Campbellton region who have tested positive for COVID-19 are now in intensive care, Gilles Lanteigne said Friday morning. Both patients are in stable condition, according to Russell.
The doctor's child is among the positive cases, Premier Blaine Higgs confirmed. The child attended two daycares in the region before being diagnosed.
The other cases include two people in their 90s, someone under 19 and someone in their 40s.
Could be 'exponential rise' in numbers
On Friday morning, Russell told CBC's News Network it's a "rapidly evolving situation," and there could be an "exponential rise in the number of cases very quickly."
Initial contact tracing indicated at least 150 people were potentially exposed to the infected doctor, including 50 health-care workers at the Campbellton Regional Hospital and 100 people in the community.
But Russell noted that was just the "first round" of contact tracing.
WATCH | N.B.'s chief medical officer of health says probe into new cluster ongoing:
"As each new case is diagnosed, there's another round," she said.
With three of the cases being health-care workers, "this can be very widespread."
Test offered to anyone in Campbellton who wants it
COVID-19 testing is being offered to anyone in the Campbellton region who wants it, starting today.
There are about 25,000 people in the region, also known as health Zone 5.
Test sites have been set up at the Memorial Civic Centre in Campbellton and the Dalhousie Inch Arran Ice Palace.
People don't need to have symptoms to be tested, but must call Tele-Care 811 to get an appointment.
The region extends from Whites Brook to the Village of Belledune, including Tide Head, Atholville, Campbellton, Dalhousie, Eel River Dundee, Eel River Bar First Nation, Balmoral and Charlo.
On Wednesday, the premier announced a medical professional had travelled to Quebec for personal reasons, "was not forthcoming about their reasons for travel upon returning to New Brunswick, and they did not self-isolate as a result."
This professional then saw patients for two weeks at the Campbellton Regional Hospital and possibly other locations.
Higgs described the person's actions as "irresponsible."
Until last week, New Brunswick had no active cases of COVID-19, the respiratory disease caused by the coronavirus. All 120 people infected since the pandemic began in March had recovered.
To date, 24,169 COVID-19 tests have been conducted in the province.


www.cbc.ca 2020-05-29 15:31:47