Why Lewis Hamilton's 'stick to racing' critics are missing the point – F1
OPINION: Lewis Hamilton's criticism of Formula 1 "staying silent" on racial injustice prompted a response from several of his fellow drivers. But it also drew a predictable cut and paste response that diminishes the platform elite sports stars have
Lewis Hamilton is rarely a man to shy away from addressing the bigger picture, proving his acute awareness of life outside of Formula 1.
He proved as much earlier this year in Australia, when he was the only F1 driver to speak up about the "shocking" decision to try and stage the race as the COVID-19 pandemic began to escalate. Less than 24 hours later, the race had been cancelled.
PLUS: How outspoken Hamilton again showed he's F1's moral leader
And on Sunday night, Hamilton again took a stand where his peers had not, directly calling out many in his industry for "staying silent" as protests continued around the world against racial injustice.
Sparked by the murder of George Floyd, an unarmed black man, by police in Minneapolis on 25 May, activism against racial injustice has erupted in recent days.
Public figures from all walks of life have moved to use their platforms to speak out against racism and lend support to the #BlackLivesMatter movement and the ongoing protests, including Hamilton.
Following Hamilton's comments, a number of his F1 colleagues moved to share posts and publicly condemn racial injustice. Ferrari's Charles Leclerc conceded he "felt out of place and uncomfortable sharing my thoughts on social media about the whole situation" initially, but noted: "I was completely wrong".
"I still can't find the words to express how it makes me feel," wrote Williams' George Russell. "But ultimately, no matter how uncomfortable it may be to speak out, silence achieves nothing."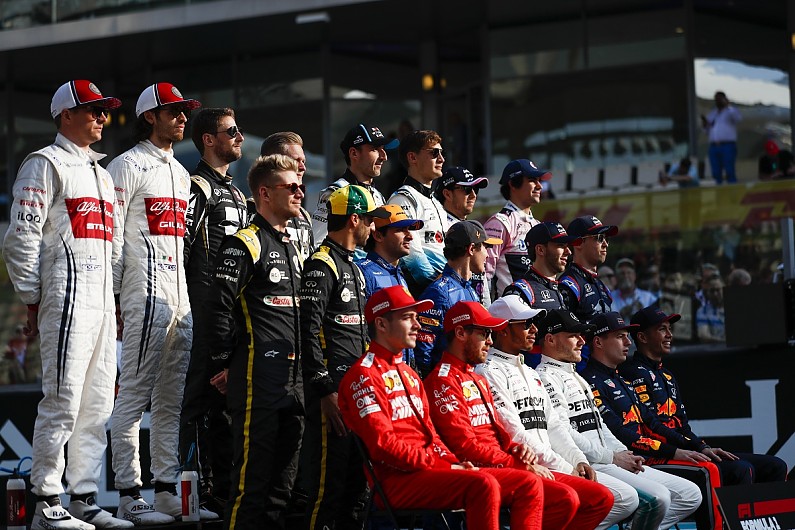 Yet with all of the messages in the F1 community, even those from Hamilton, there has been a frequent, three-word response.
"Stick to racing."
It is a response that minimises not only the influence and platform these stars hold, but also the core issue. Those saying it want the F1 drivers to be just that: F1 drivers. Nothing more. They do not want them to hold opinions about matters other than racing.
"I don't know why there's not enough university students, engineers, mechanics and even within the media, coming through from more diverse backgrounds" Lewis Hamilton
As Hamilton has grown older and explored new areas of his life outside of racing, he has shown little desire to remain within this 'box'. He doesn't want a quiet life of simply going to races, winning, and going home. He wants to make a lasting difference.
Last June, Hamilton spoke about his desire to enact real change within F1 when it comes to diversity.
"I really, somehow, want to be a part of shape-shifting that with Formula 1, working in co-operation with Formula 1 and the FIA," Hamilton said. "I don't know why there's not enough university students, engineers, mechanics and even within the media, coming through from more diverse backgrounds.
"I don't know, that's always been the way it is today, but I see a real opportunity there to be a part of shape-shifting that."
It is a paradigm that needs to change in F1. At last year's Spanish Grand Prix, midway through the race, the media centre TV screens turned off all of a sudden, meaning we had no clue what was happening for a couple of laps. I took a picture of it and posted it to Twitter to poke fun at the situation.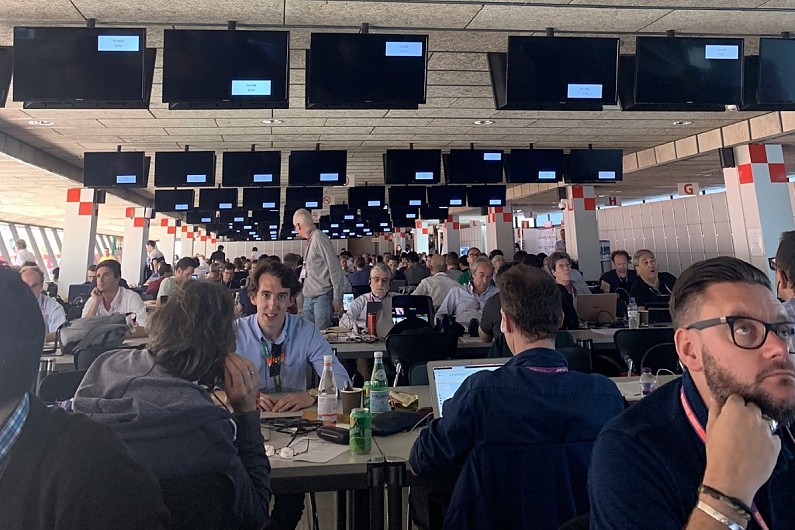 But then people responding to the tweet pointed something out. In the picture that included much of the media centre, there was not a single person of colour. All but one visible face belongs to a white man, the exception being one female journalist.
"Everyone there is just the same person," read one reply.
And it is true. In the media especially, there are few people of colour or ethnic minorities. As Hamilton highlighted, there is a need for greater diversity through the wider paddock also. F1 is still a white-dominated sport.
Hamilton will work through the final few years of his career to try and support this change. But the fashion in which he spoke up on Sunday has sparked the "stick to racing" brigade to hit hard, particularly once his peers followed suit with messages of their own.
All sports, including motorsport, can act as a form of escapism. They give fans a chance to switch off from the struggles or issues they may face in life, and enjoy some entertainment. To have any aspect of that escapism shattered and remind them of real-world issues can make some uncomfortable.
As a result, all sports stars face the challenge of how they address social issues. It is something basketball star Michael Jordan, a prominent black figure within sports since the mid-1980s, encountered in the early '90s, as depicted in the Netflix documentary The Last Dance.
In 1990, Jordan was expected to give his support to Harvey Gantt – who was aiming to become the first African-American from North Carolina to serve in the US Senate – in a race against Republican incumbent Jesse Helms. When asked about Gantt's campaign, Jordan's quote of "Republicans buy sneakers too" was met with disappointment in the black community.
"It was thrown off the cuff," Jordan said in an interview for the series. "My mother asked to do a PSA for Harvey Gantt, and I said I'm not speaking out of pocket about someone I don't know. But I will send a contribution to support him, which is what I did.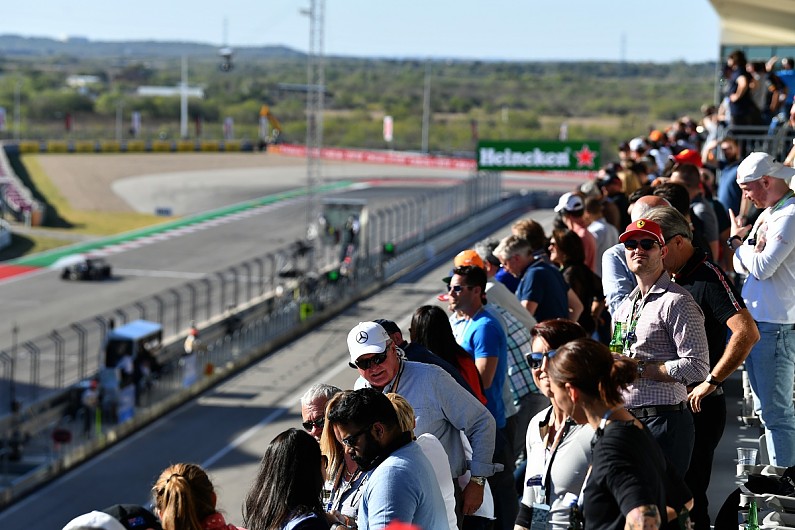 "I never thought of myself as an activist. I thought of myself as a basketball player. I wasn't a politician when I was playing my sport. I was focused on my craft.
"Was that selfish? Probably. That's where my energy was. It's never going to be enough for everybody, I know that, I realise that."
This week, Jordan has shared multiple posts in the wake of Floyd's murder.
Former US president Barack Obama said he "wanted to see Michael push harder on that", but summarised the challenge so many prominent black figures face: "America is very quick to embrace a Michael Jordan, an Oprah Winfrey or a Barack Obama – so long as it's understood that you don't get too controversial when it comes to issues surrounding social justice."
"If we don't make the effort to create pathways to give those from different backgrounds a chance, we will all be to blame" Lewis Hamilton
Stick to basketball. Stick to chat shows. Stick to sports. Stick to racing.
It's an ignorant, dismissive retort. In a world where racial injustice not only remains but is so prevalent, why should prominent figures with the platforms to speak out not do so? To fit to the box assigned for them within their sports?
Their success may not have been attained through civil service or public life, yet that does not limit them from having an opinion or an influence in those areas. People will look up to them. They will hear their message. They will listen.
Hamilton has been vocal on an array of matters as his stardom has grown, such as veganism and climate change. But racial injustice is something he has faced throughout his life, making it such an important topic for him – a black man at the very top of a white-dominated sport – to be a leader on.
In an interview with Style Magazine earlier this year, Hamilton said he felt the diversity issue in motorsport was "worse than ever before", and spoke of the need to instil some change.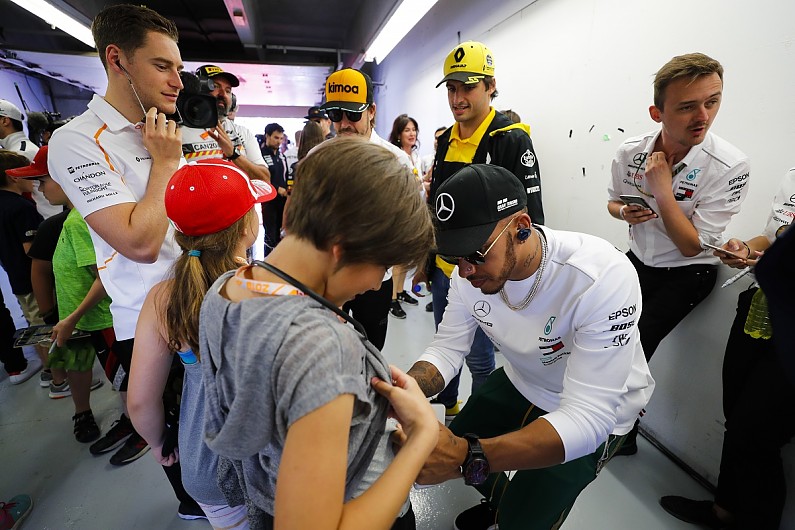 "Kids need to see successful people who look like them to know that their dreams are achievable," Hamilton said.
"Sadly, in Formula 1 today, there is an overall lack of diversity, not only among drivers, but also among engineers and mechanics.
"If we don't make the effort to create pathways to give those from different backgrounds a chance, we will all be to blame."
By calling out his peers, Hamilton has hopefully sparked some lasting change, proving they should not shy away from tackling sensitive issues. While the majority of his counterparts – most of the drivers on the F1 grid are white and hail from privileged backgrounds – can never understand the struggle of racial injustice, they can play a part in helping amplify the message that is currently being put out.
Lewis Hamilton will not stick to racing. It is something we must applaud him for, and help to further in order to create lasting change in F1.
It would be a legacy far outweighing any number of race wins or world championships.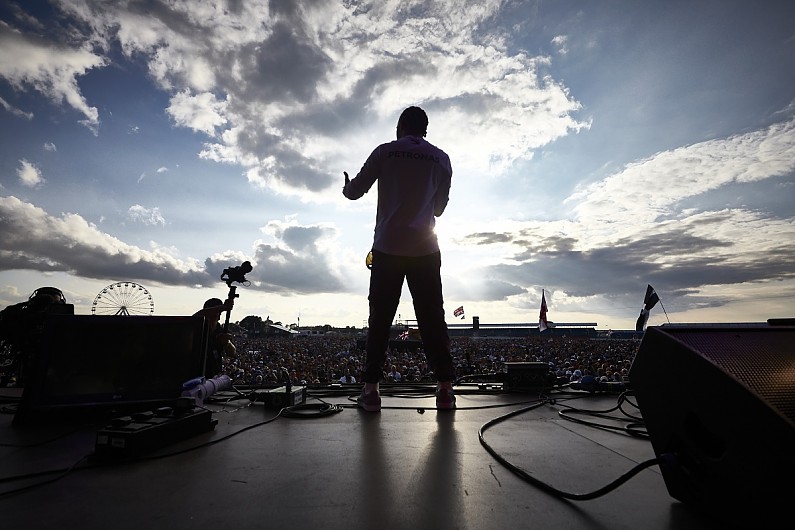 www.autosport.com 2020-06-02 09:49:29