BBC – Travel – Hong Kong's guardian of the gods
Tucked away on the south-western coast of Hong Kong Island, Waterfall Bay Park is a tranquil oasis that feels a world removed from the bustling streets and dense cluster of glass-and-steel skyscrapers that tower over much of the city centre.
50 Reasons to Love the World – 2021
Why do you love the world?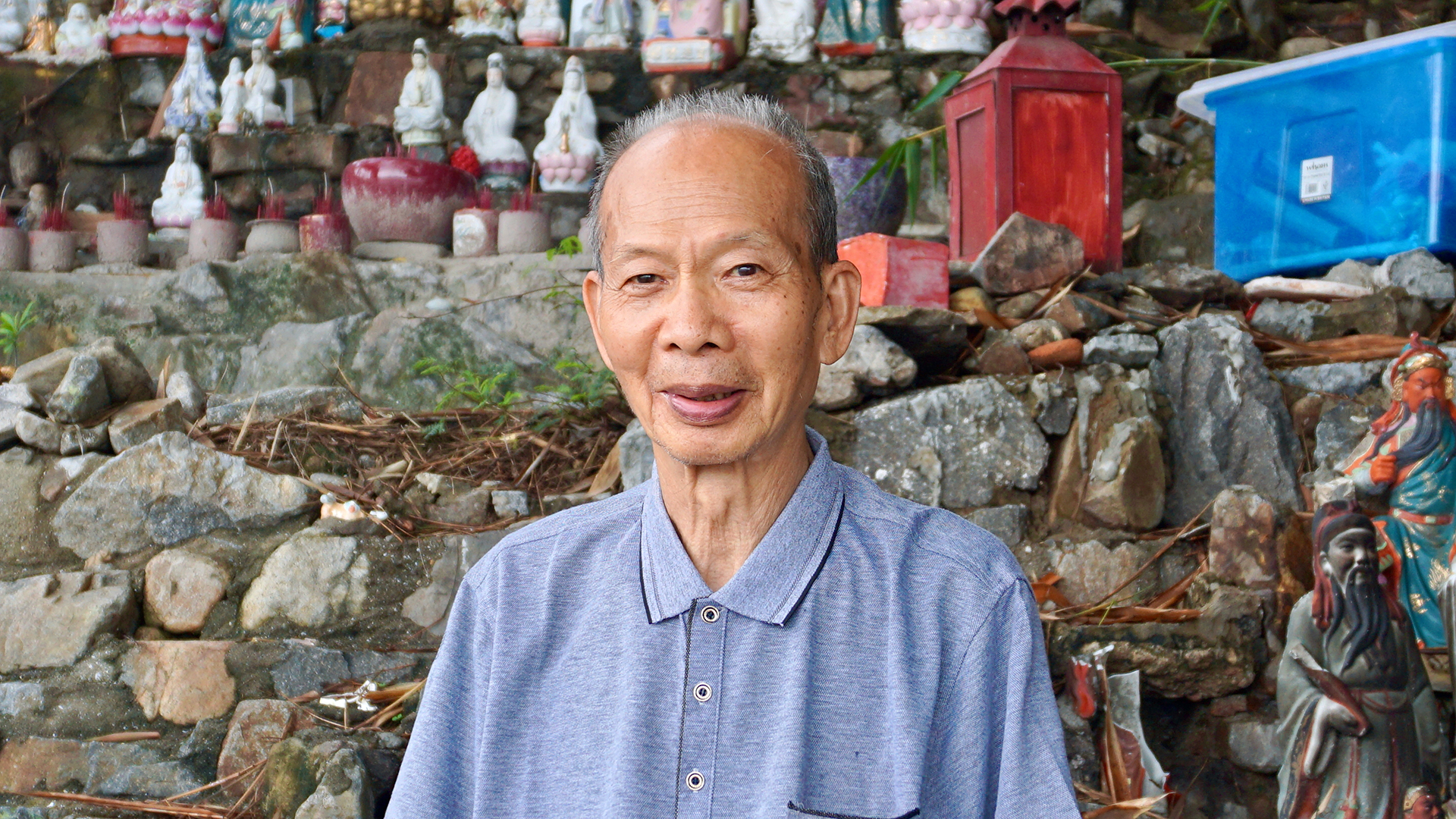 "Because I feel honoured to still be fit and healthy enough to look after the many gods here in Hong Kong's Waterfall Bay Park and receive their blessings, day in, day out. There is no place more magical for me and I feel privileged to worship here." – Wong Wing-pong, statue caretaker
The park's cascading falls lured British trade ships and pirates in the 1700s, and the fresh, potable water that fed the rushing chute (called "Heung gong" by locals) is rumoured to have given the city its name. Today, the park's pine woods and commanding coastal views attract locals and visitors who come to breathe in the fresh air, swim or watch sunsets melting into the bay.
Framed by mountains and overlooking the South China Sea, the views from the park's cliffs are sublime. But the real marvel of this place takes most visitors by surprise. A pathway from the roadside entrance leads to a flight of stairs that descends to a leafy area shaded by banyan trees. There, as far as the eye can see, thousands of colourful statues of gods and buddhas cover the rocky hillside in a magical spectacle.
While passers-by will occasionally stop to take photos or even burn incense as an offering, few know how these knee-high deities got here or why there are so many of them. But on a recent visit, a kindly older gentlemen appeared and started picking fallen leaves off some of the statues while wiping others clean with a cloth.
"I've been looking after the gods here for more than 30 years," he said, identifying himself as Wong Wing-pong, the 88-year-old self-appointed, sole caretaker of the site, which is known locally as "a sky full of gods and buddhas".
Wong, who lives in a flat perched on the edge of a cliff above the park, told me that there were only a few statues three decades ago, but as time went on, the whole hillside became covered with them. Wong is unsure of the exact number of gods, but he estimates that there are now at least 2,000 to 3,000.
"Word got out that this was the place to bring abandoned gods," he said. "It's become like a retirement home for them. When people no longer have space for the statues at home, they bring them here."
It's common for people in Hong Kong to keep small statues of deities revered in the popular local religions of Taoism, Buddhism and Confucianism in their homes. Among the most popular are Guanyin, goddess of mercy; Guandi, god of war; and Tin Hau, goddess of the sea. Households often keep small shrines to these gods, where they worship; light incense as an offering; and pray for blessings of good fortune, protection and good health.
Word got out that this was the place to bring abandoned gods. It's become like a retirement home for them
However, with space at a premium in Hong Kong, notorious for its sky-high rents and small living areas, it's quite common for locals to run out of room to keep their idols. But rather than throw them away when they get old or damaged, which is considered bad luck, people in Hong Kong often leave their chipped or faded gods on street corners. These abandoned gods often attract others, creating small, impromptu shrines across the city. Over the decades, Wong's hillside idol orphanage has easily become the largest outdoor collection of deities in Hong Kong.
"The purpose of buying a statue of a god is to bring you and your family good luck, good health and prosperity," said Wong. "If you just abandon them, it means you will no longer get the blessings. It's not good for the conscience or your luck to just throw them away."
The alternative is to bring discarded gods to this site, which means bringing them into the care of Wong. A devout Buddhist since his younger days, Wong says it's divine will that led him to become the caretaker here.
You may also be interested in:
• The 96-year-old painter who saved a village
• China's secret female-only language
• The cat who saved a Japanese rail line
"I was destined to protect them," he said. "If I'm not taking care of them, nobody would. I do this out of kindness. I couldn't bear to see these statues just left here."
Previously a butcher, Wong spent much of his life dismembering carcasses and carving up meat. But in a rather poetic twist, he now spends his time piecing bodies back together.
Wong visits the site twice a day, usually in the morning around 08:00 and then again in late afternoon. His usual routine involves sweeping away leaves, cleaning the statues and fixing any cracked or broken idols with the tube of instant glue he always carries in his pocket. By taking good care of the gods, Wong believes they will take good care of him and he will continue to receive their blessings.
"You could say I am the caretaker of all the gods. They all have equal value to me," he said.
We accept not just Buddhist statues but gods and deities from all religions. I welcome them all
Though most of the statues are of Buddhist and Taoist deities, all denominations are welcome, including a number of Christian icons found on the hillside. In effect, the site's vast, multicultural array of mini gods reflects the city itself and the fusion of Eastern and Western influences that continue to shape it.
"We accept not just Buddhist statues but gods and deities from all religions. I welcome them all," said Wong. "This is the only place in Hong Kong to take all these statues, no matter the religion."
Despite its size, this vast collection of unwanted, abandoned gods and its resident caretaker remain relatively unknown to most Hongkongers. Even when I called the local government office that manages the park to ask if they could put me in touch with Wong, they claimed to have never heard of him or even the shrine itself. But in a way, the site's off-the-beaten-path mystique adds to its charm.
During every visit, Wong prays to the gods and makes an offering with incense. Remarkably fit for his age, he covers the whole site, the length of at least three double-decker buses, climbing on boulders to access hard-to-reach areas and walking along the narrow pathways that zigzag the hillside.
"Thanks to the gods, they blessed me to be healthy and hearty," Wong said, looking down at the statues with a fatherly affection.
Though Wong has never brought any statues here himself, he has taken a few home with him over the years, including one of Guanyin and one of Guandi.
Wong says that although the site is not widely known, those who have heard of it continue to bring statues every month. Some businesses, including many restaurants, just dump their unwanted statues at the bottom of the hillside and Wong finds a spot for them. Others will find a space on the slope and position the statues themselves.
"Some people even buy statues just to bring them here," Wong said. "They know there is space here to worship the gods and in return the gods will give them blessings."
One local resident, Ms Li, has been visiting the site for more than 20 years. "I brought one statue of the goddess Guanyin here from home," Li said, as she placed incense sticks in a pot in front of one of the gods. "Someone gave it to me, and I ended up bringing it here."
Li is grateful to Wong for all the work he does to maintain the site and tries to visit most days. "I love all the gods; they are very beautiful. I come here to worship the statues, as I want to bring good luck to my family."
According to Wong, the site is blessed with good fortune since the area faces the mountains and the ocean, where good feng shui energy (qi)is said to collect.
"All the feng shui masters have said this is a very auspicious place," said Wong. "Given the good feng shui of the place, I believe it was fate that the gods started showing up and people kept bringing them here. It was destined to be."
With all the gods facing the ocean, Wong believes the deities remain protected, so that they in turn can continue to protect and bless their followers. He says that even when the weather is hot in the summer, the hillside remains cool; and when the weather is cold in the winter, it doesn't get too cold.
And while Wong says he will continue to guard the gods until he can no longer walk, he is not concerned there might not be anybody to take over from him.
"I believe the good energy of this place will lead passers-by to continue to come and worship the gods," he said. "Even when I'm gone, someone will be guided here to look after them, just like I was all those years ago. The gods will make sure they are looked after. It's fate."
BBC Travel celebrates 50 Reasons to Love the World in 2021, through the inspiration of well-known voices as well as unsung heroes in local communities around the globe.
—
Join more than three million BBC Travel fans by liking us on Facebook, or follow us on Twitter and Instagram.
If you liked this story, sign up for the weekly bbc.com features newsletter called "The Essential List". A handpicked selection of stories from BBC Future, Culture, Worklife and Travel, delivered to your inbox every Friday.




www.bbc.com 2021-02-03 13:52:42