Woman Who Put Gorilla Glue in Hair Gets No Relief at ER, Might Sue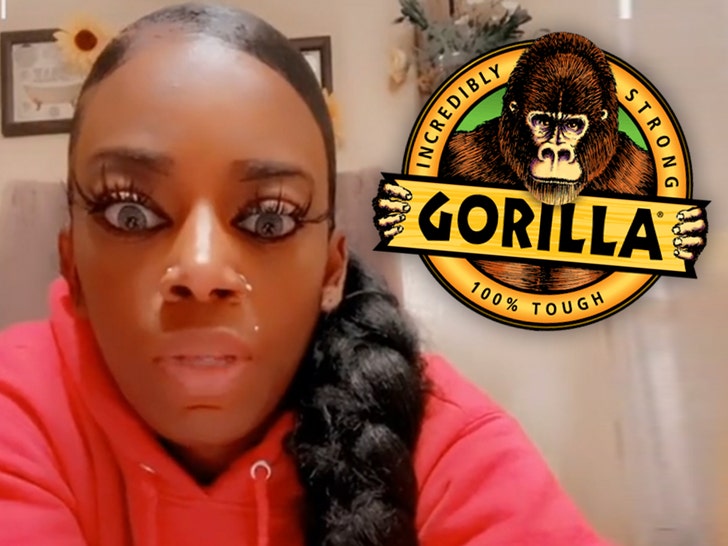 Exclusive
The TikToker who put Gorilla Glue in her hair is still living with her nightmarish mistake, the glue brand's remedies aren't working … and now she's lawyering up.
Sources familiar with the situation tell TMZ … Tessica Brown's weekend trip to the ER was another disaster, and Gorilla Glue's tip to use rubbing alcohol to remove the product was a colossal failure.
Our sources say Tessica spent 22 hours in the ER and the staff was dumbfounded. We're told healthcare workers put acetone on the back of her head, but it burned her scalp and only made the glue gooey before hardening back up.
Tessica, we're told, was instructed to keep trying the potential remedy back home, but rubbing alcohol still hasn't proved to be the cure.
Remember … Tessica says her hair's been rock solid for about a month after substituting Gorilla Glue Spray Adhesive for her normal hair spray. GG told us the quickest possible remedy was rubbing alcohol.
Our sources say Tessica's hired an attorney and is weighing her legal options against Gorilla Glue. We're told the label on the product she used says do not use on eyes, skin or clothing … with no mention of hair, which Tessica feels is misleading.
GG says all of its products are considered permanent and the packaging states it too … but we're told Tessica felt it was okay because the product said multi-use.
Waiting for your permission to load the Instagram Media.
Tessica's already crowdfunding for her medical bills … a GoFundMe has raised $9,000 and counting.


www.tmz.com 2021-02-08 18:59:30