BBC – Travel – Europe's 500-year-old seafood tradition
In a green, breezy meadow a few kilometres from the coast in West Flanders, Belgium, Nele Bekaert fetched her 1 tonne Brabant draft horse, Axel. After she strapped an old-fashioned wooden saddle to Axel's back and hitched a cart to the rear cantle for her fishing gear, she and I hopped in the back of the cart and slowly trundled down village roads to the seaside village of Oostduinkerke.
50 Reasons to Love the World – 2021
Why do you love the world?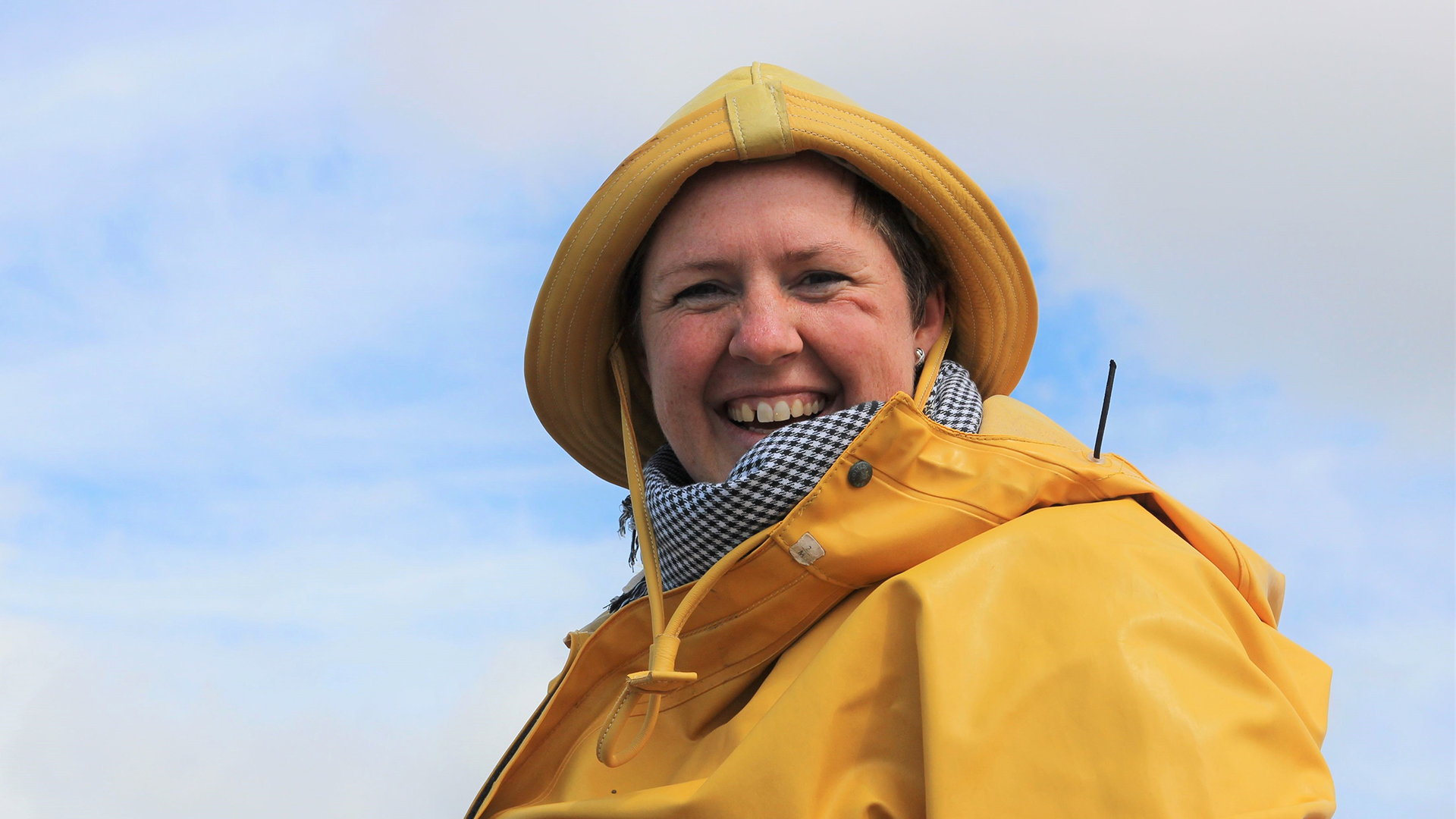 "Because while I'm out shrimp fishing, Belgium's North Sea allows me and my horse to feel calm, peaceful and at one with nature. I'm also happy to preserve and share this very important cultural tradition." – Nele Bekaert, horse fisherwoman
It was low tide, so Axel trudged through wet sand for about 1km to reach the water's edge. When the sea and sand finally met, Bekaert slid on thigh-high waterproof boots, bright yellow waterproof overalls, a slicker and a fishing hat. She unlatched the cart and tied a large funnel-shaped drag net to Axel's back. She then suspended two wicker baskets from his sides and mounted her 23-year-old steed, wedging her way in between the baskets. Bekaert then carefully led the massive animal thigh-deep into the cold waters of the North Sea to trawl for shrimp – just as Flemish fishermen in this small community have been doing for more than 500 years.
The trade was once practiced by families on the North Sea coast from France to Germany and southern England, and today there are only 17 people alive who continue this now Unesco-recognised tradition. Oostduinkerke – an 8,500-person Flemish community on Belgium's north-western tip – is the last place in the world where it still lives on. Since the late 15th Century, it has typically been passed down from fathers to sons in a custom that has remained unchanged over the years.
But five years ago, a board representing the d'Oostduinkerkse Paardenvissers (Association of East Dunkirk Horse Fishers), the Orde van de Paardenvisser (Royal Order of Horse Fishers), NAVIGO National Fisheries Museum and Koksijde City Council did something unprecedented: they allowed a fisherwoman to join the team. Now, 37-year-old Bekaert is the world's first officially recognised female paardenvissen (horse fisher).
"If someone says I cannot do something, I say I can," she said. "And with Unesco recognition, the 'man club' could not say no to me."
While it was once common on the North Sea coast for women to catch shrimp by hand-pushing mini trawlers, they were discouraged from doing so on horseback because that was considered a "man's job". But when horse fishing achieved Unesco status in 2013, an outgrowth effort to safeguard the practice ensued. Because Unesco deems that any activity on its Intangible Cultural Heritage list must be equal opportunity for all genders, the designation paved the way for horse fisherwomen.
The 'man club' could not say no to me
So, in 2015, after Bekaert completed a two-year internship, a theoretical training and a practical exam, the mother of three joined her fellow male paardenvissen as the first female in their ranks. Now, she shrimp fishes alongside the men three seasons a year, including summer tourist demonstrations that showcase the craft's ancient funnel-net trapping system.
As Bekaert rode Axel parallel to the coastline, a pair of metal-wooden plates flanking the net dragged across the sea floor to hold it open. A metal chain attached to the front of the net trawled over the sand to create "shockwaves", causing small, grey shrimp to jump into the net where water pressure pushed them to the back.
After about 30 minutes, the duo returned to shore for Bekaert to empty the net and rinse and sort their catch. She kept shrimp and edible fish like sole and left small fish and crabs for the seagulls. Then she filtered out tiny shrimp with metal sieves, retaining only those fully grown and large enough to eat.
She normally boils her shrimp on the beach, but that day she took the catch home because of Covid-19 restrictions. Since it was the summer off-season, she only caught enough (about 1kg) for her family to eat, and insisted the shrimp are best boiled alive to preserve their freshness.
You may also be interested in:
• Is this the world's freshest seafood?
• The last surviving sea silk seamstress
• The renaissance of Northern Ireland's forgotten 'seafood'
Back home, Bekaert brought salted water to a boil in a stove-like cauldron outside her garage. She and her horseback-fisher husband, Chris Vermote, dumped the shrimp into the hot water. After about 10 minutes, the grey shrimp turned pink and white. Bekaert removed them with a large slotted spoon and began the arduous task of peeling them. These little shrimp were undoubtedly the freshest and tastiest I'd ever eaten, and of the many ways to prepare these glistening grey delicacies, Bekaert's favourite is as croquette crevette: deep-fried, battered rolls with a molten shrimp filling, often with ground peels for extra flavour.
Shrimp fishing is a family affair, and Bekaert learned the craft from Vermote, whose great-grandfather was a horse fisher. She had always loved riding horses and wanted to master a new skill. While Bekaert and her husband-trainer were initially met with resistance by other horse fishermen, they showed their mettle and she her skills riding a horse.
What a man can do, a woman can do also
"What a man can do, a woman can do also," Bekaert said. Not only is she now recognised by the Royal Order of Horse Fishers, she will be celebrated this autumn with her photo on its annual Champagne label, promoting the craft as its first horse fisherwoman.
"Training with my husband brought us closer together as we must rely on each other in the sea, especially if a horse runs away," Bekaert said. She and Vermote are now training their 12-year-old son and hope to become the first shrimp-fishing family with three members. When their nine-year-old twin daughters get older, they will also be trained.
This generational passing down of the tradition helps sustain it. Moreover, each shrimp-fishing household in or near Oostduinkerke specialises in a necessary skill such as net weaving, assessing tides and currents or caring for horses. In all, 13 households, representing 15 fishermen and two fisherwomen (a second, Katrien Terryn, passed her practical exam on 29 June 2020), are interdependent. Formally, they come together in d'Oostduinkerkse Paardenvissers. They also band together to promote their craft in the Order, which includes travelling to other countries and presenting Belgian King Philippe Léopold Louis Marie with the first catch of the season each September at his Palace of Laeken.
According to Ruth Pirlet, a researcher at Belgium's NAVIGO National Fisheries Museum, which has two floors about the history of shrimp fishing and even a restaurant run by a horse fisherman and his wife, the craft not only requires excellent equestrianism but also knowledge of the coastline, sand banks, currents, wave patterns and even cooking shrimp. "It takes a lot of skill and there are a lot of different skills involved," she said.
As Pirlet explained, from the 16th Century until just after World War Two, shrimp fishing by horseback was practiced across the North Sea, but as economies improved, coastal farmer-fishermen disappeared. In Belgium, for example, coastal dunes were populated with small farms and horses were used to trawl for shrimp as an extra source of food and income. As the coastline developed, farms were driven out and horses moved inland. Nowadays, this old-fashioned method has largely been replaced by commercial beam trawling – heavy-duty nets held open by a steel beam and dragged across the seabed by boats.
While less efficient, horseback shrimp fishing is more sustainable, since its lighter equipment diminishes damage to the sea floor. Monetarily, however, it is not. According to Bekaert, most horse fishers have "real" jobs to pay their bills. "It's an expensive hobby, but [a] labour of love," she said.
During the shrimping season (September through November and March through May), the average catch is 7kg per day selling for about €10 per kilo. This is based on about three hours of fishing – with shore stops every 30 minutes to empty the net and put the sorted catch into baskets – and a total of nine hours per outing. The fishers typically eat, freeze or sell their catch to locals on call lists.
It is our identity
In Oostduinkerke, statues of horse fishermen dot the beach and streets in honour of the 500-year-old tradition. Horse fishers are also represented in paintings, decorations, venues, street names and even a local beer called Peerdevisscher. "The people who live here are very proud of them," Pirlet said. The shrimp fishers underpin the community's identity and inspire cultural events, such as the area's most important local holiday: the annual two-day Shrimp Festival held each June. Residents spend months preparing floats, costumes and more for a parade that attracts about 10,000 international visitors. The first day includes a shrimp-catching competition among the horse fishers and whomever wins rides first in the parade the next day.
The festival was started in 1950 by Honoré Loones, the mayor of Koksijde, Oostuinkerke's neighbouring town, who saved horseback shrimp fishing from extinction by making it a tourist attraction. The event – including public demonstrations in the summer months – has been supported and partly subsidised by the municipality ever since. Current Koksijde Mayor Marc Vanden Bussche, who served as one of nine judges for Terryn's practical exam, noted that the tradition sustains the modern coastal community. "It is our identity," he said.
Moreover, the small shrimp play a big role in Belgian cuisine; about half of all shrimp caught in the North Sea are consumed in Belgium. They are typically used in soup or classic Belgian dishes such as croquette crevette and tomate-crevette (a large, hollowed-out tomato filled with shrimp and mayonnaise). But for some, boiled grey shrimp are best simply served atop buttered brown bread with coffee, local beer or white wine.
Besides the culinary benefits, shrimp fishing on horseback is good for the soul. "It makes me calm and peaceful as it's just me, my horse and the sea," Bekaert said. "I have a sense of time without time, and oneness. I think about nothing else."
BBC Travel celebrates 50 Reasons to Love the World in 2021, through the inspiration of well-known voices as well as unsung heroes in local communities around the globe.
—
Join more than three million BBC Travel fans by liking us on Facebook, or follow us on Twitter and Instagram.
If you liked this story, sign up for the weekly bbc.com features newsletter called "The Essential List". A handpicked selection of stories from BBC Future, Culture, Worklife and Travel, delivered to your inbox every Friday.




www.bbc.com 2021-02-25 20:15:00