BBC – Travel – Can Hanli Prinsloo help South Africa reclaim its oceans?
Growing up on a horse farm outside Johannesburg, South Africa, Hanli Prinsloo dreamed of being a mermaid – never mind that the closest ocean was a 10-hour drive away. After a friend introduced her to freediving at university, Prinsloo turned her childhood dreams into reality, plunging 60m into the ocean's depths and holding her breath for six minutes while breaking 11 South African freediving records.
50 Reasons to Love the World – 2021
Why do you love the world?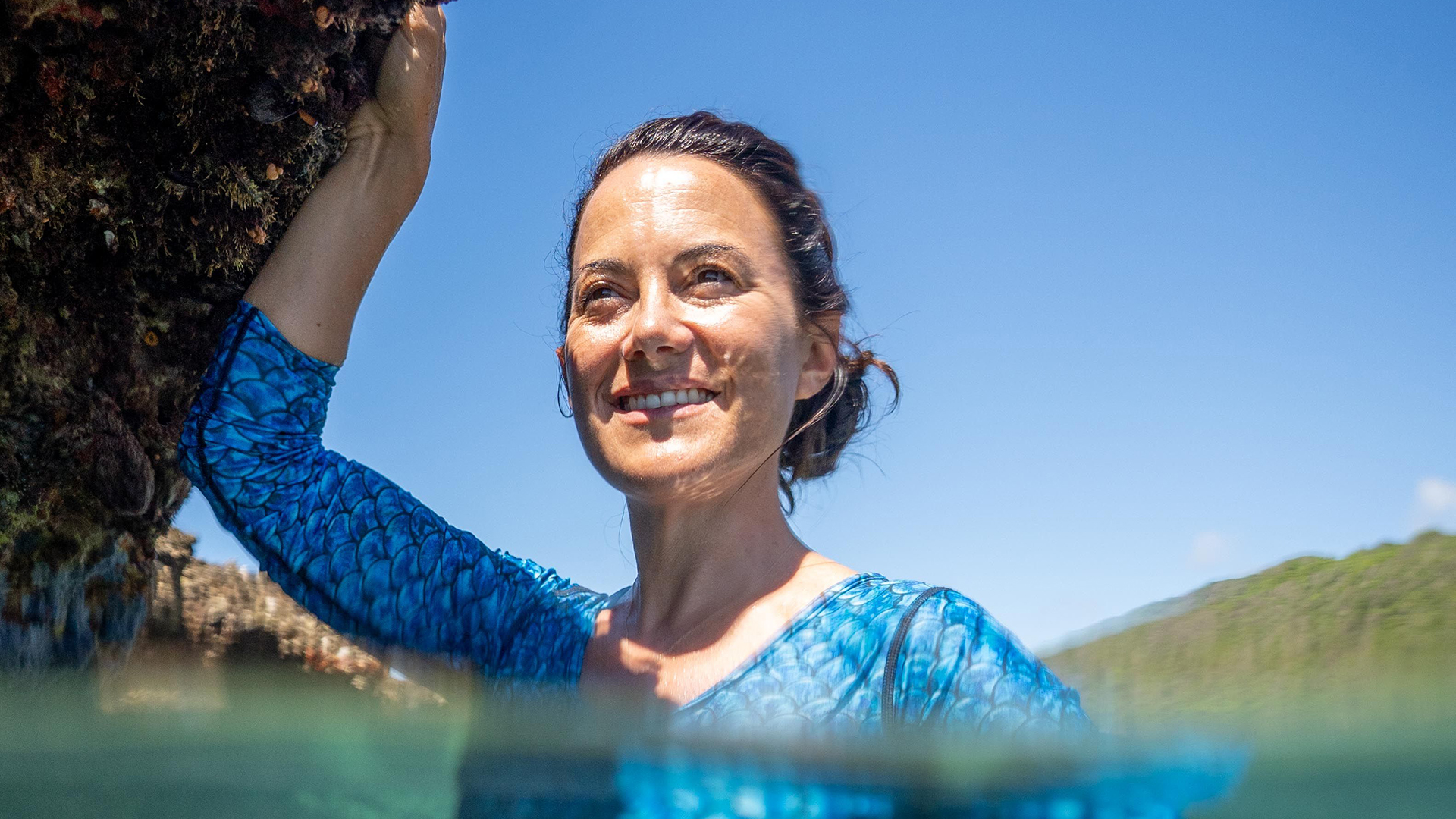 "Because just before the world got turned on its head, I spent a week in blue water with wild dolphins at seven months pregnant, and through their echolocation, they could see my baby girl, surrounding me, scanning, clicking and celebrating this new life inside me, reminding me of just how magical this blue planet truly is." – Hanli Prinsloo, freediver and ocean conservationist
These days, when Prinsloo isn't in the water, she's working to protect it by reacquainting the world with our natural relationship to it. She's spent the past decade championing the idea that though we may move in a world of air, we are, in fact, water, and her I Am Water Conservation foundation has helped children in underserved South African communities experience the transformative beauty of the ocean for the first time.
We recently talked to Prinsloo about how reconnecting with nature can bring out the best version of yourself; South Africa's complicated relationship with the sea; and the greatest risk facing the world's oceans today.

Q: How did you get into freediving?

Growing up on a farm, close to nature and animals, taught me from a very early age that people need nature, and that I loved being underwater! My sister and I spent days on end in the farm's dam pretending to be mermaids.
Oceans were always a great love and fascination, but rarely experienced – just on short family holidays to the coast. I only discovered freediving when I was 19 while studying in Sweden. On a cold day in a deep fjord, I sank down into the most perfect stillness I could ever have dreamed of, and through long winters of training in pools in Sweden to hot summers diving deep in Egypt, I became a competitive freediver.
Q: How would you compare freediving to things like snorkelling or scuba diving, and what led you to fall in love with it?

When I am scuba diving or snorkelling, I feel like a very privileged visitor
I believe that there are many ways to live out a love of the sea. Beach walks, sailing, surfing, scuba diving, kayaking, open water swimming… there is no need to compare or rank. For me it is about finding your way back to water, and having tried every one of these ocean activities, freediving feels like the most intimate way of connecting with the ocean.
Like our whale, dolphin and seal cousins, we enter the ocean on just one breath. Humble and in sync. When I am scuba diving or snorkelling, I feel like a very privileged visitor, allowed to observe and see the beauty beneath the surface. When freediving, I become a part of this watery world.
Q: You've described the water as your home, saying, "It's where I become who I am." How has the ocean given you a better understanding of yourself and what are some ways that others can develop a greater appreciation for it?

Underwater on one breath, moving without gravity in stillness, I find myself becoming the best version of myself. A more present, calm Hanli who doesn't sweat the small stuff but [is] connected to this great wilderness around. This is not just a vague mental experience. On a physical level, our bodies remember water. We have the same mammalian dive response that whales, dolphins and seals have. A complex series of physiological adaptations are set in motion when we spend time underwater on one breath, and we become our aquatic mammalian selves.
Q: The I Am Water Ocean Conservation foundation you started is a big part of this effort. What inspired you to start this and what have been some of its biggest triumphs and challenges?

Coming back to South Africa after years of travelling and freediving [in] some of the world's most magnificent underwater locations, I fell in love with my local Cape Town seascapes. At the same time, I was appalled at how very few South Africans have access to their oceans. I truly believe that for us to want to care about something, to protect it, we have to feel connected, to love it. It's a great and improbable leap to think that one might be compelled to protect something you have never experienced or understood. I Am Water was founded 10 years ago on this principle.
Building an effective organisation from scratch is more challenging than I knew when I started, and being a non-profit CEO is like perpetually launching a new company and being in start-up year every quarter! It's challenging and terrifying and for many years we scraped by. But with support from a couple of key donors and team members, we now run an Ocean Guardians workshop model that has seen more than 6,000 young participants experience the ocean in a transformational and immersive way – many for the very first time.
You may also be interested in:
• Isabel Allende on travel, culture and what inspires her
• Vandana Shiva on why the food we eat matters
• Frances Mayes on the enduring allure of Italy
In 2019, I Am Water was awarded the prestigious Beyond Sport "Sport for Climate Action Collective Impact Award", a heartening recognition of the vision and grit it has taken the team to prove that what we believe in works. We are excited for a post-pandemic time where we can grow our work even more and see global collaborations to further our vision of oceans for all.
Q: You've cited that some of the foundation's most rewarding efforts involve working with underprivileged communities across the South African coast. For a nation that is surrounded by water on three sides but whose tumultuous history hasn't always made access to the water easy for all of its people, how would you describe the nation's relationship to the sea?

South Africa is blessed with incredible nature, both on land and at sea, but even though we are a sought-after destination for international travellers seeking out these natural wonders, very few South Africans get to experience it, in particular the ocean.
Most beaches and public swimming pools were deemed 'whites-only' under the Apartheid regime, ensuring generations of non-swimmers
Most beaches and public swimming pools were deemed "whites-only" for many decades under the Apartheid regime, ensuring generations of non-swimmers and deep-rooted trans-generational fears. For many, there is a fascination with the beauty and power of the sea but pinned down in a belief that it "is not for me". Through the work we do with I Am Water, we are passionate about shifting this mindset: to create confidence in the water instead of fear; a love instead of the disconnect; and a sense of ownership. Our oceans are part of our heritage and belong to all South Africans.
Q: Your company I Am Water Ocean Travel takes the conservation ethos of I Am Water and extends it to travellers, offering intimate wildlife encounters with some of the ocean's most majestic creatures. Why is coming face to face with animals like humpback whales, dolphins and whale sharks so important for people?

My partner Peter and I started I Am Water Ocean Travel both as a means to fundraise for the foundation but also to see the "protect-what-you-love" ethos find its place in a community of affluent and influential global individuals. On our trips, we teach freediving and facilitate opportunities to meet these great animals. Learning freediving is a great lesson in humility and self-awareness, [and] combined with the transformational experience of utter awe when coming eye to eye with a majestic ocean giant, one is reminded of just how very connected we are to nature.
We live our lives thinking we are separate from nature, but when you feel the song of a humpback reverberate through your body as you hang suspended in infinite blue, you are brought back to a wilderness connection that affects your everyday choices authentically.

Q: What would you say to those who think that encroaching on these animals in their natural environment does more harm than good?

There are many examples of places and operators where being in the water with the animals has a detrimental effect on either their habitat or their wellbeing. One of the reasons we started Ocean Travel was to explore ways to share these transformational experiences with travellers in a way that is beneficial to the animals. For example, supporting researchers in a region, visiting marine-protected areas where sustainable tourism supports protection from fishing and other destructive but financially viable practices.
Travel can and must be a force for good
Travel can and must be a force for good, it's just figuring out how to do that!
Q: What do you feel is the greatest risk threatening the world's oceans today and what are some ways that ordinary people can help reduce this risk?

I believe that the greatest overarching risks to our oceans is the belief that they are too vast to ever truly be at risk and the disconnect between humanity and nature. From this comes the symptoms – overfishing, pollution (plastic and others), species and habitat loss (biodiversity depletion) and, of course, climate change – that could eliminate life in our oceans through ocean acidification and all the other effects from an unstable environment.
For each of us to start having less of a negative impact and perhaps even a positive impact, it begins with an uncompromising shift in behaviour.
A token paper straw or reusable water bottle [should] not [be] the extent of one's commitment. Instead, [we must] take a courageous deep dive into the complexity of our impact and make daily choices that reflect this commitment. Eating more plant-based, avoiding seafood, using less single-use plastic products, avoiding fast fashion, travelling responsibly, supporting initiatives for cleaner energy in any way you can. It's not about whether an individual's actions can have an impact, but realising that this is the only powerful impact – a tidal wave of collective behaviour change that tips the scales towards nature, not human greed.
Q: After more than a decade of conservation work, what inspires you to believe that we can help save our oceans and create a more sustainable future?

For me, it has become increasingly vital to remain firm in my optimism for the future of our oceans. I am inspired by the rise of female voices in conservation, science, policy and global leadership, reimagining what a world with enough space for everyone to thrive would look like.
I am inspired by the beaming faces of the young participants in our Ocean Guardians workshops who, being given the chance to experience and love the sea, are ready to step up and play a role in caring [for it]. I am inspired each and every time I get in the ocean, her raw power, her dazzling beauty, her remarkable resilience. On the days where I feel intimidated by the challenges, I make sure to get back in the water. Feeling my own personal micro-reconnection reminds me that, as people, we are not land dwellers divided by oceans but aquatic cousins connected by the blue of our planet.
Finally, in 2020, we welcomed our young daughter into the world, and seeing her swimming underwater at just six months with her eyes wide open, her whole little body still more used to water than air and gravity – I am inspired and energised for the next decade of conservation work.
BBC Travel celebrates 50 Reasons to Love the World in 2021, through the inspiration of well-known voices as well as unsung heroes in local communities around the globe.
—
Join more than three million BBC Travel fans by liking us on Facebook, or follow us on Twitter and Instagram.
If you liked this story, sign up for the weekly bbc.com features newsletter called "The Essential List". A handpicked selection of stories from BBC Future, Culture, Worklife and Travel, delivered to your inbox every Friday.




www.bbc.com 2021-03-05 13:23:13